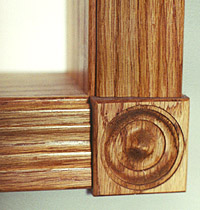 (also called casing blocks)
Our standard rosette thickness is 11/16".
We stock as a standard 3 sizes: 2 ½", 3", and 3 ½"
Other sizes are available by special order.
We offer 4 rosette profiles, #68, #70, #74 and #75 (see photos).
Our catalogue has prices for Oak, Maple, Pine, and Primed MDF. We also can supply rosettes in other wood species upon special request.